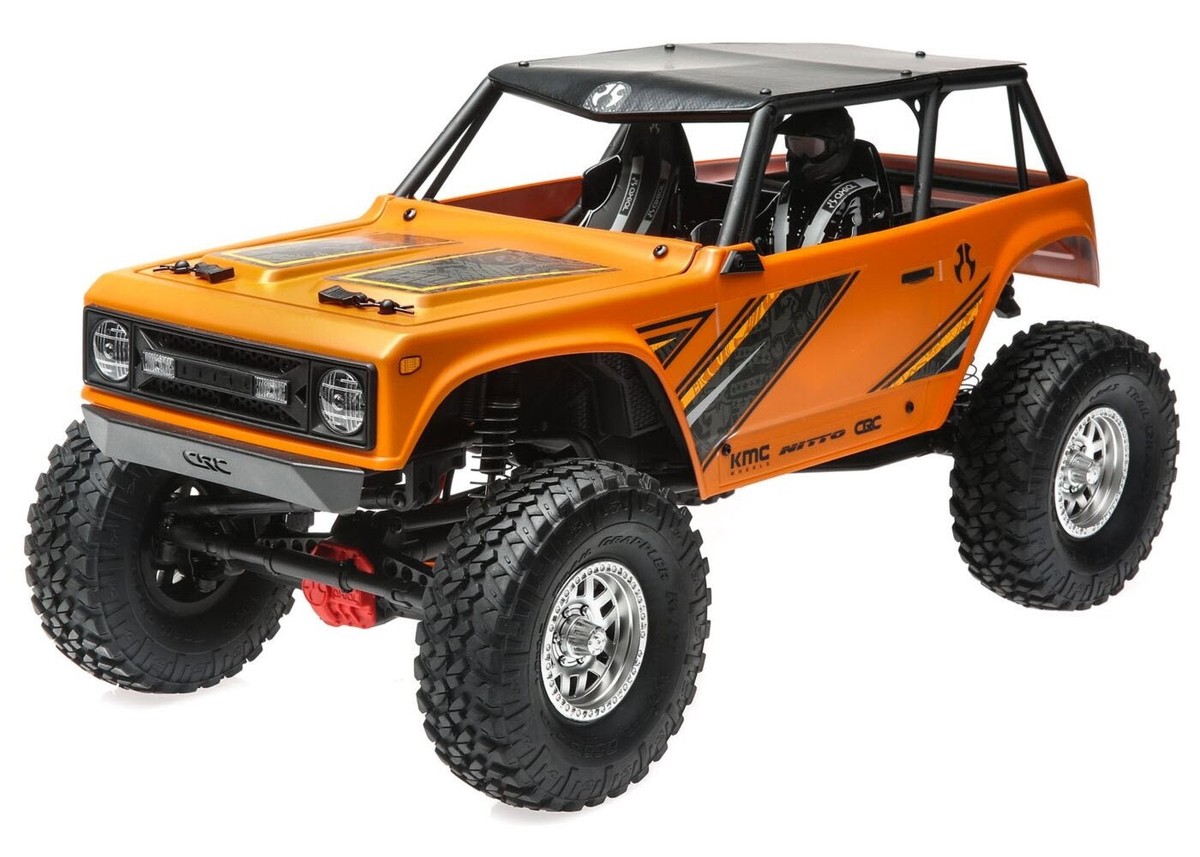 Brushed 1/10 rock crawler with 4WD drivetrain. Available as ready-to-run.
---
Specs
---
AVAILABILITY
Product code:
AXI90074T1 (also seen as AXID13NN)
Assembly time:
No Assembly Required
Popularity:
POWER
Battery:
2-3S lipo or 5-9S nimh
REMOTE
Radio system:
2 channel, included
TERRAIN
DIMENSIONS
Ground clearance:
69 mm (2.72 in)
Wheelbase:
308 mm (12.13 in)
MATERIALS
Body material:
Polycarbonate, plastic
WHEELS
Tire diameter:
48 mm (1.89 in)
Wheel diameter:
53 mm (2.09 in)
Wheel width:
26 mm (1.02 in)
TECHNICAL
Speed control:
Dynamite AE-5L, included
Battery tray:
147 x 44 x 32 mm (5.79 x 1.73 x 1.26 in)
Differential type:
Bevel gear
SUSPENSION
Shock damper:
Adjustable, oil filled
Size Comparison
---
Size of the Axial Wraith AXI90074T1 vs. an average couple. The gray box is the relative size of the car seen from the side.
---
Size Diagrams
---
Length x Width
Dimensions from above (length x width) vs the average scale 1/10 Rock Crawler.
Height x Width
Dimensions from the side (height x width) vs the average scale 1/10 Rock Crawler.
Ground clearance
Ground clearance vs the average scale 1/10 Rock Crawler.
Wheels/Tires
Wheel and tire size compared with the average scale 1/10 rock crawler.
---
Track Sizes
A 1/10 rock crawler like this car needs these minimum track sizes.
Small track
5.6 x 10.1 meters (18 x 33 feet)
Medium track
8.4 x 11.2 meters (28 x 37 feet)
Large track
11.2 x 17.1 meters (37 x 56 feet)
---
Compares
---
Axial Wraith AXI90074T1 is often compared with these RC cars.