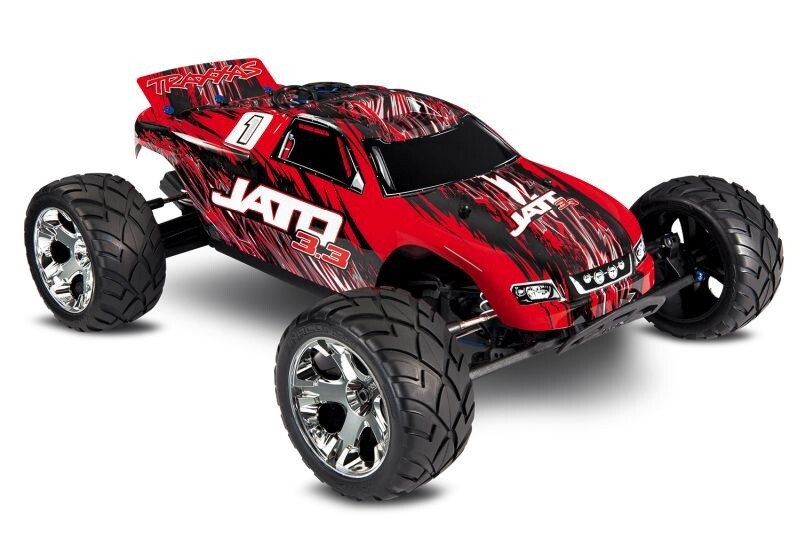 1/10 stadium truck with 2WD drivetrain, and a top speed of 105+ kmh (65 mph). Available in 2 different colors.
---
Specs
---
AVAILABILITY
Popularity:
POWER
Top speed:
105+ kmh (65 mph)
REMOTE
TERRAIN
DIMENSIONS
Front track:
327 mm (12.87 in)
Rear track:
330 mm (12.99 in)
Wheelbase:
285 mm (11.22 in)
WHEELS
Tire diameter:
105 mm (4.13 in)
Wheel diameter:
72 mm (2.83 in)
TECHNICAL
Drivetrain:
Shaft Driven, 2WD
Differential type:
Bevel gear, sealed
Size Comparison
---
Size of the Traxxas TRX55077-3-REDX vs. an average couple. The gray box is the relative size of the car seen from the side.
---
Size Diagrams
---
Length x Width
Not enough data for this diagram 😮
Height x Width
Dimensions from the side (height x width) vs the average scale 1/10 Stadium Truck.
Wheels/Tires
Wheel and tire size compared with the average scale 1/10 stadium truck.
---
Track Sizes
A 1/10 stadium truck like this car needs these minimum track sizes.
Small track
7 x 12.6 meters (23 x 41 feet)
Medium track
10.5 x 14 meters (34 x 46 feet)
Large track
14 x 21.4 meters (46 x 70 feet)
Add Review/Photos
---
Have this car or remember having it? Please write a review and/or upload photos of this car. Thanks 👍
---